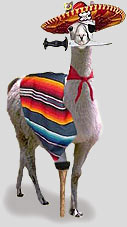 Have a question for Quatloos?
Ask
Tony-the-Wonder-Llama
To learn about this scam,
go to our main
Quatloos! Nigerian 4-1-9 Scam web page.
Bangladesh languished at the bottom of the rankings - as it did last year - with a score of just 1.2 points, making it the country perceived as the most "highly corrupt". * * * Nigeria remained just one place ahead of Bangladesh with 1.6 points, up from 1 point last year. ~ Transparency International, 2002 Report on World Corruption.
Wired Magazine Interviews Nigerian Scammer -- Wired Magazine has published an unusual interview with a former Nigerian 4-1-9 scam artist who has since moved to New York.
Victim of 4-1-9 Scam writes to authorities -- A letter tolaw enforcement agencies from a victim of the Nigerian 4-1-9 scam relating his story and seeking help.
Nigerian 4-1-9 Forums - Open discussion forum about advance fee fraud, such as the Nigerian 4-1-9 scam. This forum is open to the public.
Brad Christensen Forum
Comment on the Brad Christensen Exhibit of humorous replies to Nigerian scam letters. Suggest names and scenarios for Brad to lure the scammers to some faraway and exotic location in search of Brad's money.
Spoofing the Nigerian Scammers This is a forum for people who have picked up Brad's lead and have started correspondence with 4-1-9 scammers of their own. Start your own string and update it with suggestions from readers, and collaborate with other readers to respond to the scammers.
3rd Annual Nigerian Email Conference
The Brad Christensen Exhibit - Brad Christensen fights back by conning the con men. With humor and imagination as his weapons, Christensen preyed on the scammers' abundant supply of greed and ignorance.
We do NOT spam. Various multi-level marketers & other criminals have recently sent out spam impersonating us, & having our return email address, so that people would complain about spam and cause us to be shut down (a/k/a "joe job"). These multi-level marketers and other criminals have engaged in this form of cyber-terrorism because our telling the truth about their fraudulent schemes was hurting their ability to sell to new victims. Fortunately, our ISP now recognizes that these fake spams are bogus and ignores them, and additionally we are duplicating this site on numerous other servers (including "hardened" servers as well as our own proprietary servers) so that we cannot be harmed by these multi-level marketers and other criminals. Death to Spammers!