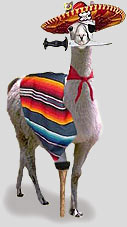 Have a question for Quatloos?
Ask
Tony-the-Wonder-Llama
IRS Codebusters Scam - A new variant of the Global Prosperity scam offers you (worthless) research and (equally worthless) forms to let you live a tax-free existence. Supported by a person who claims to be a judge but who has no formal legal education and who mostly heard traffic ticket and small claims matters.
Tax Protestors, Pure Trusts, and Other Stupid De-Tax Schemes & Scams
Have a stupid theory why you shouldn't have to pay taxes? 861? Non-Filer? Sovereign Citizen? Believe that the federal courts are actually admiralty courts or that the only real citizens of the USA live in Puerto Rico, Guam, and the District of Columbia, then this forum is for you.
Tax Practice & Policy and Tax Shelters Practical and Practice issues for Professionals who practice in the area of taxation. Moral, social and economic issues relating to taxes, including international issues, the U.S. Internal Revenue Code, state tax issues, etc. Not for "tax protestor" issues.
Perfectly Legal
- David Cay Johnston