Quatloos! > Tax Scams > Tax Protestors > Frivolous Filer Argument
This responds to some of the more common frivolous "legal" arguments made by individuals and groups who oppose compliance with the federal tax laws. These arguments are grouped under six general categories, with variations within each category.
Each contention is briefly explained, followed by a discussion of the legal authority that rejects the contention. A final section explains the penalties that the courts may impose on those who pursue tax cases on frivolous grounds.
The Nature of the Federal Income Tax System.
The Meaning of Income: Taxable Income and Gross Income 6.
The Meaning of Certain Terms Used in the Internal Revenue Code.
Constitutional Amendment Claims.
"Untaxing" Packages or "Untaxing" Trusts.
PENALTIES FOR PURSUING FRIVOLOUS TAX ARGUMENTS.
---
See http://evans-legal.com/dan/tpfaq.html

---
Visit Our Main Tax Protestors Page
Know of other court opinions where these wacko theories were pitched? Send them to us by our online form -- we always enjoy a good laugh!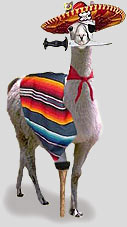 Have a question for Quatloos?
Ask
Tony-the-Wonder-Llama
Tax Protestors, Pure Trusts, and Other Stupid De-Tax Schemes & Scams
Have a stupid theory why you shouldn't have to pay taxes? 861? Non-Filer? Sovereign Citizen? Believe that the federal courts are actually admiralty courts or that the only real citizens of the USA live in Puerto Rico, Guam, and the District of Columbia, then this forum is for you.
Tax Practice & Policy and Tax Shelters Practical and Practice issues for Professionals who practice in the area of taxation. Moral, social and economic issues relating to taxes, including international issues, the U.S. Internal Revenue Code, state tax issues, etc.
PENALTIES FOR PURSUING FRIVOLOUS TAX ARGUMENTS
Tax Protestors News & Articles
Breaking News Regarding Tax Scams
Frivolous Filer Arguments
The truth about frivolous tax arguments.
IRS Agent Pleads Guilty in The Tax People case -- Former IRS agent Thomas Steelman, Sr., pleads guilty and faces up to three years in prison for promoting The Tax People, a "tax pyramid scheme" involving fabricating home based business deductions.
Bill Benson Debunked! -- The bogus arguments put forth by tax scammer Bill Benson are examined and shown to be totally meritless.
Tax Protestor Otto Skinner Condemns Frivolous Patriot Arguments - Even some of the tax protestors are willing to admit that most of the tax protestor arguments are totally bogus -- usually the ones that they themselves are not selling.
Idiot Legal Arguments: -- A Casebook for Dealing with Extremist Legal Arguments -- Detailed de-bunking of various tax protestor arguments by
Bernard J. Sussman of the Anti-Defamation League.